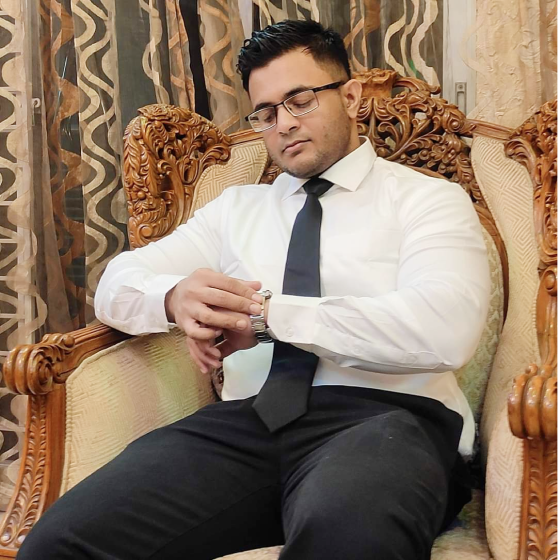 Innovative, Geeky, Goofy 🤓
I am a self-taught designer. I attended art school as an extracurricular activity as a child, the teachers were instructors at Charukola, Dhaka University. My superpower at school was drawing up cartoons within minutes.
As soon as I got a computer at home, with dial-up internet; I spent less time drawing and more time designing artwork on MS Paint, Word, and Powerpoint for the classroom walls. Later on, I was mentored by seniors at school to learn Visual Basic and Macromedia Flash.
I went to learn more on online forums. I coded some basic programs and released them and started making friends from all over the world. Designing banners and forum graphics became one of my hobbies to show-off skills and compete in graphics battles. I then went on to freelance to make money from my skills.
Win '98 era
January 5, 2000
Aged 9, I learned to code in MS-DOS based BASIC programming language, made primitive  websites in HTML — using gif's. I'd show them off to friends at school to impress them. I'd skip lunch and showers to create new mini-games and websites.
Visual Basic
February 20, 2002
Aged 11, I got introduced to Visual Basic programming by a friend/neighbour who was in high school. Even though the projects he'd do were advanced for me, I'd read the source code to understand them and ask him questions over the phone.
Flash ActionScript
March 10, 2003
Aged 13, I got introduced to Macromedia Flash (Action Scripting) by a senior in school who I met through the school's Scouting program. After school, we'd have the Scout program — then I'd be picked up by my mother to go home. I'd shower and eat quickly, to call him and find out he hasn't reached home yet. Once he'd be home, he'd guide me to learn Flash for hours on end.
Discovering Photoshop
December 25, 2004
I'd play an online game called Gunbound which I had picked up over summer break. The game lead me to join an online game hacking forum, where I found that some gamers were making cool photo manipulations and wallpapers and were even hosting contests to see who was the best. This led me to learn Photoshop and eventually discover the communities around graphic design and being a webmaster.
Becoming a Webmaster
July 10, 2005
I'd go on to join several forums and launch my own which gained credible notoriety (from young kids worldwide) back in the day. I felt like Batman at school, where only a few friends knew what I did after school. I'd even used my Visual Basic skills to modify a game hacking program that led my gaming forum to skyrocket in popularity.
Starting Freelancing
June 1, 2006
As I browsed webmaster forums, I started to learn that you could make money online in various ways. To be able to work on the internet and have money materialise physically, blew my mind. I decided to stick to my talent and provide design services. However, receiving payments was not easy as my country had no digital wallets or easy way to get paid without huge fees. I did workarounds such as asking an acquaintance's American relatives to receive payment through PayPal. A client from Norway even sent me money through Western Union — sitting at the bank /w my passport to receive money (as a teenager) felt pretty amazing.
Overwhelming school work
January 30, 2007
As I progressed onto higher grades in school, the workload increased and started to take over my life so I barely had any leisure time to be creative or have any motivation left to learn even more new things.
School Management System
January 8, 2008
Computer science turned out to be a subject I could pick as a part of my official curriculum for my GCE O Level's. After taking the subject, I found out that it includes a final project that requires VBA programming which is something I'd learned ages ago. But this time, I'd build a fully functional school management system — by designing an interface in Visual Basic and using Microsoft Excel as the data storage medium to use preset formulas, link cells and apply automation.
Juggling SAT's & A Level's
August 6, 2008
While finishing school under the British Education System — I also had to prep for SAT's because I wanted to attend university in the United States. It wasn't easy but it felt aspirational. At one point, I felt I wouldn't be able to go to the United States because my results were not exceptional enough to get a substantial scholarship. By some miracle, my parents decided to send me regardless using their savings.
Starting University
August 1, 2010
Headed off to State University of New York at Binghamton. Started meeting people from all over the world and open my eyes to diverse knowledge and perspectives. In addition to participating in several clubs and events, I slowly matured into a campus leader with leadership positions in several university clubs and communities.
Business Intelligence & Analytics
August 31, 2012
As an Economics major, one of my favourite courses was Monetary Economics (i.e. how the financial system functions and how the calculations are done by the banks to determine interest rates). Beyond Economics, data science and the "analyst" role really started picking up steam so I took a course called Business Intelligence and Analytics where we got a very commendable flavor of machine learning and predictive data modelling methods. I also took a course on Retail Geography /w ArcGIS because a friend had mentioned it. I still remember the professor saying during the first lecture, "all my students get jobs easily."
First American Internship
July 1, 2013
In my Junior year of university, I interned in Human Resources at a non-profit called Handicapped Children's Association (now renamed to Helping Celebrate Abilities) located in Johnson City, New York — just to get some American work experience and be taken seriously. In the past, I'd desperately applied to several campus jobs only to be hopelessly rejected; semester after semester.
Intern as Junior Analyst
September 1, 2014
One internship down and my résumé was finally getting somewhere. I wanted to be involved in finance (because of good salaries) and with my Economics background I knew I could potentially do well as an analyst — so I spent all summer looking for an internship related to finance. Outbound applications, emails and calls piled to no response from anyone — until eventually I contacted my university career counselor who was very empathetic to my efforts and ended up getting me an internship at one of her childhood friend's asset management firm.
Job after Graduation
April 1, 2015
I'd been applying to jobs long before graduation. I'd landed several interviews — a big improvement over past years where I'd get no responses. I'd developed enough professional confidence to walk into job fairs and build rapport and score interviews. However, my biggest blocker was the fact that I wasn't an American citizen, otherwise I knew I'd have had a job rather quickly based on early interview outcomes. Regardless, I had to keep job hunting for months after graduation. I'd been running out of time and I'd eventually decided to move back to Bangladesh. A week before my flight, I got a job confirmation as a research assistant at a market research firm. I got a refund for my flight ticket and moved to Syracuse, NY where I worked for a year on a project for Microsoft.
Learning Python
July 1, 2015
At my research assistant job in Syracuse, New York, we'd do a lot of work in Excel so I used some VBA to automate my tasks. It made me ponder about life and how something I'd learned so long ago was still helping me in various ways. I'd interviewed for a role in my job hunting days where I had to specifically demonstrate I could automate report generation using VBA. Regardless, I knew it was time to advance my skills so I enrolled in courses on Coursera.org on topics such as Python Programming (by the University of Michigan) and Algorithmic Thinking (by Rice University). I'd even go on to read books such as Learn Python the Hard Way. At my work, they'd host workshops on data science quite regularly so I even got to see SQL + R programming in action and data science in practice for market research.
Entrepreneurship
July 1, 2016
Failing to get a long-term visa, I eventually had to move back to Bangladesh. I had briefly joined a traffic analytics tech start-up which was in desperate need of funding. Realizing the bleak future, I parted ways with the start-up and started a boutique digital agency with my close acquaintances. The organisation sustained for two years. We hired several employees but we were always at break-even and the competition just kept on increasing where we had to keep working on narrow to non-existent margins, unrealistic client expectations and a tough labor market where salaries did not match talent and skills. However, it was a great learning experience because we delivered incredible value to our clients and grew our skills.
Product Design
July 1, 2018
In need of fresh direction in my life, I started looking for a job. Among other technology companies, Pathao was one of the most innovative; locally. I applied for the Product Designer position because it fit my past experiences. They assigned a take-home project, which I handed over in a week. I got called in for an interview and a few weeks later, I was working at one of south-east asia's biggest tech start-ups.
Continuing Education
April 1, 2019
In my job, I worked tirelessly but as time passed—I knew I had to go back to studying to progress my career. I enrolled at the Bangladesh University of Engineering & Technology (BUET) in the course Machine Learning in Python. BUET is one of the best universities in Bangladesh and my primary goal was to attach a brand to my name (to appease traditionalist HR departments)—otherwise, I learned Python quite a while back and briefly worked with Pandas. I also enrolled in an official certified online course for Full-stack Web Development with React by The Hong Kong University of Science and Technology.
Moving to Singapore
November 1, 2019
Joined Aleph-Labs in Singapore as a UI/UX Manager where I collaborated with a team of designers to deliver the redesign of Standard Chartered's internal investor relationship management mobile app (called Jarvis). The project entailed quick-win solutions for user experience issues such as confusing user flows, that had been built up over the years due to ad-hoc feature development. We attended weekly meetings, presented solutions on a modular basis that were run in sprints. The client provided their feedback, which we noted and constantly iterated. The project was supposed to extend to a long-term 2020 vision, but the client backed off and many other projects at Aleph-Labs were winding down, i.e. near the end. Since the projects ended, I returned home to continue my search for exciting work.
Intelligent Machines
March 1, 2020
After returning home, I discovered an opening at Intelligent Machines, an artificial intelligence startup that was quite well-known and respected in the local tech scene. I joined as a Product Designer and lead the enterprise software solution (desktop + mobile) design efforts to enable 900 merchandisers to cover 418 outlets each (up from 240), for the largest MFS provider in Bangladesh (bKash). During my tenure, I was offered salary increments thrice and promoted to L2 status.